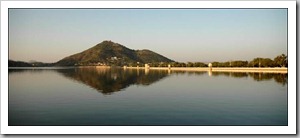 One of the famous lakes of Udaipur, normally pronounced and written as "Fateh Sagar," needs to be pronounced and written as "Fatah Saagar" on the basis of history of its naming and correct pronunciation of Hindi and Urdu words. This article describes the reasons for this change on the basis of contents of the famous book, describing history of Mewar, named "Veer Vinod," first published in 1886 and an unpublished document named "Mewar Gazetteer."
One of the famous lakes of Udaipur is normally pronounced and written as "Fateh Sagar". It came into existence during the regime of the then Maharana of Mewar, Shri Fatah Singh ji. This lake has been created by enlarging and rebuilding an old reservoir named "Dewali ka Talaab". The foundation stone for renovation was laid in 1889 on the occasion of Udaipur visit of the Duke of Connaught from England. The dam was originally named as Connaught Dam but in due course of time it was named as Fatah Saagar in memory of the then ruler Shri Fatah Singh ji.
The existing dam height and full tank level of "Dewali ka Talaab" was raised by constructing a beautiful face wall dam with earthen backing so that it can be connected with  another famous lake of Udaipur – "Peechola – Swaroop Saagar" through a link canal for inter basin water transfer. Provision of duel gates at the western end of this link canal was made so as to have navigation facility from the main Palaces to Fatah Saagar even when there is difference in water levels of both the lakes. A bridge out side Chand Pole with raised central portion was so constructed that boats can pass under it even when the reservoir is full. A feeder canal named Chikalwas feeder and a Pick-Up Weir near Thoor village was also constructed to divert water from Ayad River to Fatah Saagar. Thinking of inter basin water transfer and providing additional storage capacity with this concept, 110 years back, is an example of advance planning skills of the then non formally educated engineers, called "Gajdhars".
"Fatah" is an Urdu word which means conquering. Urdu knowing people are well aware that it is not at all "Fateh." In the famous publication "Veer Vinod", which not only deals with ge

ography and history of Mewar but also describes the then social and economic conditions, the name of this lake comes repeatedly as "Fatah Sarovar." In an unpublished hand written document named "Mewar Gazetteer"; this lake has been named as "Fatah Saagar."

The Water Resources Department, Government of Rajasthan still writes it as Fatah Saagar as evident from the Data Display Board seen near Overflow end of main Paal, but the local authorities writes it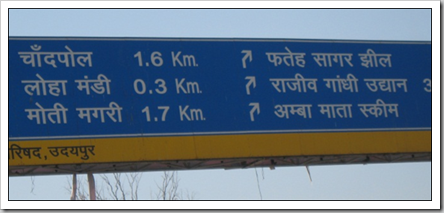 as "Fateh Saagar" even in Hindi as evident from road sign display boards seen near Chetak Circle and Mohta Park . One of the Hindi daily uses "Fatah" and the other uses "Fateh".
When written in English as "Sagar", it is spoken as "सगर" on phonic basis by many foreigners who do not know the Hindi pronunciation. If we write "Saagar", it will then be certainly taken as "सागर" by non Hindi knowing people also.
Although, it is only a matter of one "Matra" but we should be serious about it and try to avoid the thinking of "sab chalta hai". I have once read in Reader's Digest that when they were publishing a story in which the name of an Australian village was appearing, they contacted the Australian Embassy just to confirm the spelling in English to match with actual phonic name of the village. We have renamed many cities like Bombay to Mumbai and Calcutta to Kolkata on this ground. Accordingly we should consider naming and writing our historical structures to match with the original names. So let us start writing and pronouncing the name of this beautiful historical lake as "फ़तह सागर" in Hindi and "Fatah Saagar" in English without delay.
– Gyan Prakash Soni