We have a place called Siphon (without any siphon) at the northern entry point of Udaipur city. This name is based on a more than 100 years old water carrying structure,  Siphon, connected with the canal system of Fatah Saagar Lake.  This structure has been demolished in stages for road widening which is unrecorded. It was a rare structure built in lime surkhi mortar stone masonry (without cement or R.C.C.) carrying canal water under pressure below the road without any leakage. Had it been retained by making a circle at the road bifurcation, it could have proved an example of past technology and a study object. We can even now review our development projects and plan to retain such historical structures. Full article is available below.
We have a place called Siphon at the northern entry point of Udaipur city – where a circle has been made recently by the Urban Improvement Trust. The road leading towards north from Fatahpura gets bifurcated here – one leads to Badgaon – NH 76 – Gogunda – Jaswantgarh – Pindwara – Ranakpur etc. and the other leads to Bedla – Lakhawali – Sukher etc. For going to Haldighati, Kumbhalgarh, Ranakpur, Mount Abu and Jodhpur we have to go through this trisection which shows its importance.
Siphon is a device through which liquid is conveyed from one point to the other, through a U-shape or reverse U-shape tube or structure generally bye passing an obstacle.
The basic condition is this that the outlet point should be lower than the inlet point to cover the friction losses of the tube. An irrigation canal, off taking from Fatah Saagar was passing through this location and there was a Siphon structure to pass the water below the road. The canal water level was about three meters higher than the road level. There were two circular wells on both the sides. Water was conveyed across the road from the upper well to the lower well through a barrel below the road connecting both the wells. By this structure, the design canal water level was maintained even after crossing the road. It was built with the dam and canal system in 1889, during the regime of Maharana Shri Fatah Singh ji, using stone masonry in lime-surkhi mortar, as there was no cement at that time. (The first factory for manufacturing cement in India was established in 1914 at Porbandar.) There were no Hume pipes or R.C.C. at that time and therefore the conduit to carry water, under pressure, below the road was also of round shape stone masonry, like a double arch, which made it strong enough to bear the load of road traffic.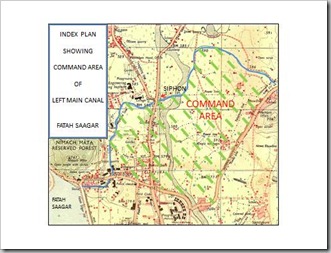 About 440 ha. (1100 acres) of land was irrigated every year from Fatah Saagar, most of which was through this canal and therefore it used to run for most of the year. All elderly people belonging to Udaipur know that this structure used to function very well and there was no leakage. People used to take bath at the top of both the circular wells. It was a popular land mark, called 'Kotha' in Hindi and Siphon in English. Practically there were no buildings along the road side except Chungi Nakaa with a few shops. There was lush greenery and guava or mango farms on both sides of the road. With gradual increase in drawl of water for drinking purposes from Fatah Saagar, availability of water for irrigation reduced year after year and finally irrigation from Fatah Saagar had to be stopped completely by the year 1980. So, this syphon structure, along with the canal system became obsolete. By this time, our city also started expanding at a very fast rate resulting in conversion of most of the cultivated land in this area in to residential or commercial plots.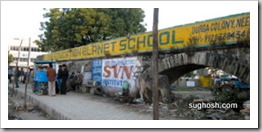 Today we see only buildings, shops and complexes instead of guava and mango farms and there is practically no land left having green cover. Under the circumstances, we can see only traces of the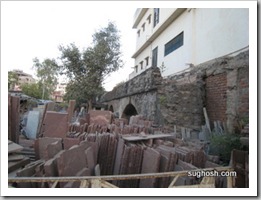 historical canal in part lengths as most of it has been encroached upon and buried for constructing buildings. The road width at the Syphon was about 10 meters only. With the increasing traffic, it was widened as per need, from time to time, but without any overall future plan.
The upper well was dismantled about 20 years back and then the lower well was dismantled about 10 years back. No one knows, what happened to the barrel below the road. Recently, the approaches have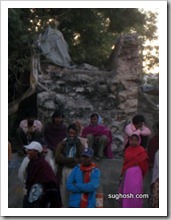 also been dismantled in part lengths and the remaining structure is in very bad shape as well as full of encroachments.
This is the history of unrecorded and unnoticed burial of a historical structure and we have a place called Syphon, without any siphon. It is one of the examples of loosing our heritage and history in line with loosing most of our city wall. We are loosing day by day our Jharokhas, Gokhdas and Stone slab Chajjas to build new R.C.C. structures with cantilever projections and glass coverings. If this continues, Udaipur will certainly loose its identity.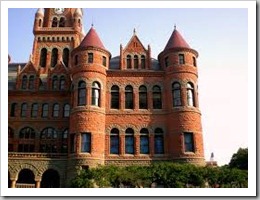 In countries like U.S.A. and Canada, they do not have historical places like us and therefore they are very particular to preserve what ever is available. Here, we have such structures in plenty so we do not care to preserve them. In Dallas, Texas, U.S.A., they are preserving and old court building constructed in 1880 using red sand stone in lime mortar and masonry arches. A full team is there to show the building and to explain how they are preserving its heritage look. Many persons are researching on its foundations, ventilation, mortar properties, etc. A damaged cast iron railing has been replaced by searching an old foundry who can cast it with the same design and pattern. You can get lot of literature on it and see films about the structural details. It will be interesting to note that, all this is not done at the cost of Government. The whole expenditure is met from the visiting fee and sale of publications etc.
If we had vision, long term planning and desire to give something to our next generations for study, research and rich heritage, we could have retained this Syphon, by keeping the main structure in tact with-in a big circle as we have kept Hathipole and Surajpole by planning the roads away from the main gates. Then, it could have been another place of attraction like Sukhadia Circle having the Syphon in the centre instead of a fountain. By maintaining this historical water proof structure built in lime surkhi mortar which served its purpose for 100 years, we could have compared the performance of our modern high technology structures at various irrigation projects constructed using R.C.C. which are leaking with in 15-20 years after completion.
Even now, we can adopt a policy to plan in whole and well in advance, for at least 50 years need instead of undertaking haphazard, piecemeal and unplanned development works. Only by such policy, we can retain our historical structures in original shape and condition for our future generations.
– Gyan Prakash Soni
Note – This article was first published at www.udaipurtimes.com in December, 2010. It has been reproduced here with minor modifications.